Antas Apparel is committed to producing the finest quality Italian and American calf skin belts and leather goods, handmade in the USA to the finest Golf, Country Club, Resort and men's specialty retail stores in North America.  We have created a custom build a belt experience here on our website where each belt is customized to your exact specifications!  You have choices in skin and stich color, belt width of 35MM or 40MM and buckle preference.  Once you have created your belt, then you will select a size that is normally 2" larger than the tagged pant or short size that you normally purchase, then we custom make and cut the belt to your order specifications. Your customized belt will be shipped to you upon completion. We do not stock cut belts, each belt is sized for you upon completion of your order.  We thank you for visiting Antas Apparel and we thank you for the trust that you have placed in us with your business.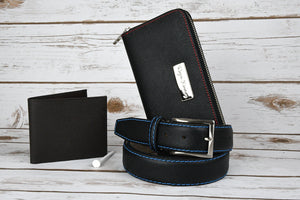 Leather Gift Sets
NEW leather wallets, clutches and belts make the perfect
gift for your next event. Tons of options to choose from.